If you are living or thinking of living on Manhattan's Upper West side,  and can find an apartment close to Riverside Park, you will always be able to do find something to do even if it's just a stroll on a hot summer day.
There's a Cherry Walk from 100th to 125th street on the water as well as the red clay tennis courts at West 96th street in case you want to channel the spirit of The French Open. There's soccer fields, long winding paths, the Boat Basin Cafe and this just takes you into the West 70's.  Here are some photos to get you motivated to take a walk on the Hudson River and maybe catch a sunset, take a free yoga class or watch an outdoor movie.  Click on the below for a list of events. Calendar of events in Riverside Park
One of the best places to live is in one of the many full service buildings on Riverside boulevard. There are a range of apartments from studios to family size apartments. Many of the buildings have roof decks, and swimming pools among the amenities. One of the best buildings is the newest addition- One Riverside Park where a 3 bed/3.5 of around 2000 sqft (185m2) can be had for under $4 million  or rented for under $10k per month.  Around the corner at 1 West end avenue, you can find interesting offerings at around $2000 per sqft and this building comes with a 20 year tax abatement.
Beyond the glitzy new condos in this section of Lincoln Square, you can find the more affordable Lincoln Towers, a postwar co-op on West end avenue. In Lincoln Towers, there is a 2 bedroom/2 bathroom apartment for sale under $1.5 million. This co-op has several buildings and while not as fancy as it's neighbors to the west, it is more centrally located, a full two avenues closer to Broadway including Zabar's and the express subway stop.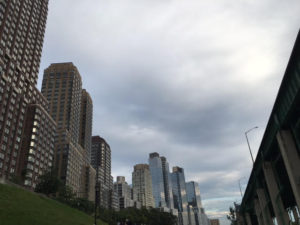 Whether you decide to purchase, rent near Riverside Park or just pass through, there's always plenty to do…