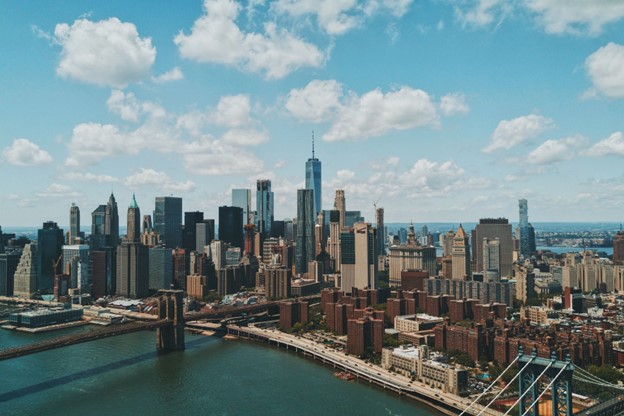 1. Live Affordably in New York (Sort Of)
Unfortunately, New York is not the most affordable city, especially when it comes to housing. Look for good deals, but also make sure that you investigate the neighborhood before committing as there are significant differences between the boroughs. In New York proper, expect your studio apartment to start at around $3,500, with a few exceptions. Some of the outlying areas, like Brooklyn and Long Island, have lower prices, if you don't mind a commute.
Houses in New York range quite a bit, too, depending on where exactly you want to live. For example, Manhattan ended 2021 with a median of $1,165,000 whereas Staten Island was $625,000.
2. Tap Into a Thriving Community
New York City's business community is renowned worldwide for being both welcoming and dynamic. With a strong commitment to innovation, creativity and collaboration, the Big Apple has cultivated a world-leading reputation for connecting businesses of all sizes to industry experts and entrepreneurial professionals alike. Alongside the steadily growing start-up scene, hundreds of established business headquarters have become firmly entrenched in the city's landscape. Companies such as Microsoft, Dow Jones and Google are all visible fixtures in the corporate New York terrain.
The city offers an idyllic blend of supportive networks along with cutting edge advances; opportunities are abounding with tremendous potential for growth at both the individual and corporate level. Tap into some of the city's limitless ways to connect, experiment, activate new ideas, and thrive as a business owner by checking out:
3. Enjoy Food, Culture, and Activities
New York is universally renowned for its vibrant and incomparable food, events, and cultural communities. Everything from Michelin-starred restaurants to Chinese delivery places all have their place in the city's diverse, ever-shifting cuisine scene.
NYC also hosts numerous world-famous events throughout the year; from the Macy's Thanksgiving Day Parade to December art walks and Harlem Week, there's an event here for everyone's tastes. The spirit of community here is electric. Ethnic enclaves share their cultural traditions along with cuisine staples brought over from countries around the globe. From Lebanese falafel to Salvadoran pupusas, New York's culinary landscape remains as varied as ever.
4. Leverage an Educated Workforce
Did you know that 40.1% of New York City residents have at least a Bachelor's degree? Indeed, this city is highly educated, which is a great resource for business owners who want to recruit talented staff members. Some of the top colleges in and around New York include:
Columbia University
Barnard College
New York University
Rutgers University – New Brunswick
5. Get Your NYC Business Started
When you're ready to start your business in NYC, there are a few resources that will be beneficial. Partnering with a business formation service, for example, can give you the tools to start an LLC — and this can minimize taxes and paperwork. Be sure to review the regulations in New York before you do this. Other resources include the Greater New York Chamber of Commerce and the New York Secretary of State.
6. Take In the Entertainment
When you're not busy running your business and tending to your family, New York City has a rich array of entertainment options to indulge in. You can visit Broadway or even off Broadway for some hit plays and musicals, or take in the art at the Museum of Modern Art. Really, there are too many amazing things to do to list in New York City. You'll have to discover some on your own!
7. Avoid the Traffic – Take Public Transportation
New York City is infamous for traffic, which is why it offers many unique transportation options for locals and tourists. The subway is an iconic symbol of the city, providing fast access to all five boroughs of the city. Iconic yellow taxi cabs are also available in Manhattan.
Further from the city center, travelers can take the Staten Island Ferry to the lesser explored parts of NYC located on Staten Island. For those looking to explore beyond the boundaries of New York City itself, buses such as Greyhound offer convenient daily routes across America's east coast. In any case, visitors to New York City are sure to find a direct link to wherever they want to go!
Discover Everything New York Has to Offer
Whether you enjoy cultural events, delicious cuisine, or exciting nightlife, there's no shortage of things to do in NYC. Not to mention that as one of the most vibrant and diverse cities in the world it's near impossible to be bored in the bustling city! It's undoubtedly one of the greatest cities globally when it comes to opportunities for small business owners. So if you've been considering moving to New York City, don't hesitate one minute longer – come on down and see what all the fuss is about!
Brett Engle, the author of this piece, created Diy Guys and co-authored with Ray Flynn on their upcoming book How to DIY Damn Near Everything to give others the courage and confidence to pursue DIY projects in their homes. 
Brett Engle is an architect and co-creator along with Ray Flynn of DIY Guys
Brian Silvestry has been in real estate since 1999, meaning he has the knowledge, experience, and connections to get the job done.