In January of this year,  the Extell developed building known as One57 on Manhattan's Billionaire Row set a record when it sold a 11,000 square foot duplex made up of the 89th and 90th floors for $100.47 million. It was the most expensive residential sale surpassing the previous record set at 15 CPW of $88mm. Now, as has been well documented in this blog and in the media, several other buildings are taking aim at this record and record breaking sell outs.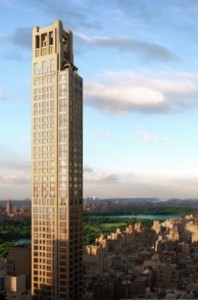 Last year however, sales slowed One57 and with several other towers built in the Midtown area including 432 Park avenue, 520 Park avenue, 220 CPS and the Jean Nouvel tower at 53W53street, brokers as well as real estate experts have been predicting a luxury glut. With land costs so high, developers like Extell and Vornado need to hit $3500 per square foot to make a profit. Both developers are betting on superior locations still demanding high prices from the International as well as the local elite. 220 CPS already has reported over $1 Billion in sales and as a result of their lower cost for land, they are already close to break even with two thirds of the condo still left to sell.
So where is the luxury glut? I think you will see that the buildings withot a superior location like near these buildings will have a harder time. Several buildings have found that out the hard way like 400 Park avenue South and 210 West 77 street. 400 Park avenue south in NoMad lowered prices and took some apartments off the market. Naftali's 210 West 77 street had no sales at the end of last year then lowered prices, changed Brokers and did an adjustment of their design. The result is sales picked up. It is being reported that sales at One57, Extell's luxury tower have picked up and the developer is expecting to be sold out by the end of the year. Meanwhile buildings that address the pent up demand for affordable luxury will continue to do well since there are so few of them in the pipeline. The Wall Street Journal's article shows steep increases in the avereage price of a new Manhattan condo and well documents this trend.
Read the WSJ article below.