A quick search on listings site streeteasy.com shows 417 apartments under $1 million on Manhattan's upper west side with 64 of those being condos. Under the $600k threshold,  there are 124 co-ops and 7 condos. The upper west side has a mix of housing with walk up apartments, as well as doorman and non-doorman buildings. They run the gamut from a tiny $275k studio to penthouses in amenity rich buildings on Riverside boulevard with river views and outdoor space.
There are pockets of affordability in the far west 90's and 100's as well. With the B,C subway line serving Central Park west and the 1,2,3 running along Broadway, the work commute is not as much a hassle as the Upper east side which is overcrowded in the mornings.
There are plenty of restaurants of every imaginable type in the neighborhood as well as a cluster of bars on Amsterdam avenue in the low 80's. You also have neighborhood live music venues like Smoke and also Cleopatra's Needle. On the upper west side, you have plenty of super markets including two outposts of Whole Foods, Trader Joe's, Zabaar's, Fairway and the West side market. In addition, you can choose a park between Central Park and Riverside Park depending on location.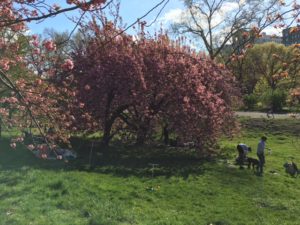 Affordability, convenience, and plenty of space make the upper west side a wise choice for your first Manhattan pad. Of course that is only my opinion and probably why I have lived on the UWS for 13 years. What do you think? Where do you want to buy your first Manhattan apartment?